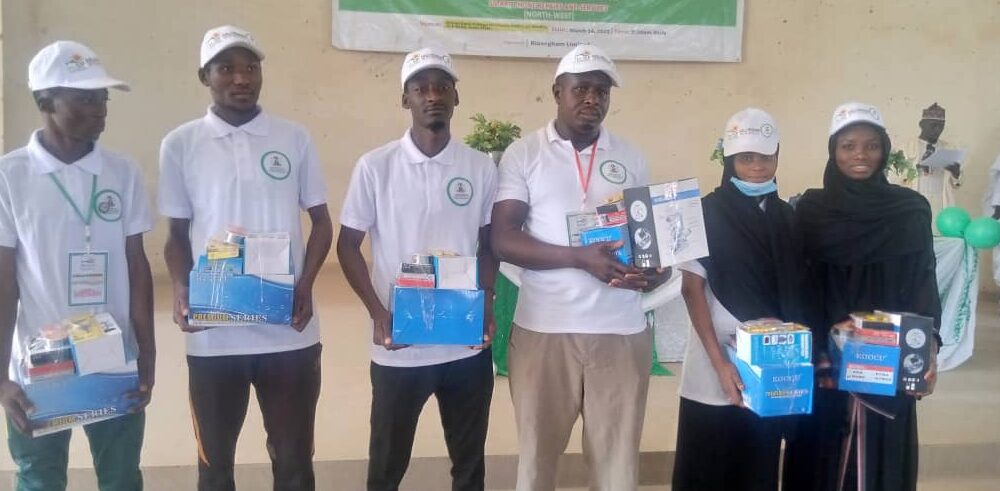 FG spends N5.9 billion on training and monthly allowances for N-power beneficiaries in Kano – Kano Focus
Nasiru Yusuf
The Agents for Citizen-Centred Transformation (ACT) program has launched a new initiative to bring together civil society organizations and media professionals under one umbrella.
KANO TUNING reports that a one-day roundtable between civil society organizations and journalists was organized on Monday to chart the way forward for a lasting relationship.
Speaking on the occasion, the ACT Program State Focal Person, Hajiya Rabi Adamu, said the meeting aimed to strengthen relations between the media and CSOs in order to influence the government on its responsibilities.
She also said the gathering will create synergy between CSOs and media for sustainable development.
"This is to set the media and CSO agenda for better partnerships. Facilitate constructive dialogue on how to improve CSO-Media relations. Discuss EU-ACT support to CSOs in the State To engage senior media personnel and compliment their efforts in nation building as drivers of change," Ms. Adamu said.
Turning to ACT, Ms. Adamu said the objectives of the program are to contribute to the achievement of sustainable development in Nigeria by enhancing the credibility of CSOs and enhancing their role as independent development actors and drivers of change.
According to her, to achieve this objective, the program will focus on selected and strengthened CSOs, networks and coalitions working in the areas of EU intervention in 10 states, across the country.
She said, "The Agents for Citizens Driven Transformation (ACT) program works with civil society organizations to enable their effectiveness and credibility to become drivers of change in Nigeria."
"ACT is implemented nationwide, with work in Lagos, Kano, Abuja, FCT, Adamawa, Edo, Enugu, Rivers, Sokoto, Borno and Plateau states."
In an article titled "The Role and Impact of Civil Society in Enhancing Civic Space", the Executive Director of the Organization for Community Civic Engagement (OCCEN) Nigeria, Abdulrazaq Alkali, said that strong civic space is essential for good governance, the rule of law and for enabling citizens to shape their societies.
He said civic space refers to an enabling environment that allows members of society to communicate and interact freely, resolve issues of concern, air grievances without hindrance, engage in dialogue and influence various sensitive public processes that affect them.
He stated that it is undoubtedly true that an open and pluralistic civic space that guarantees freedom of expression and opinion as well as freedom of assembly and association is a prerequisite for the consolidation and sustainability of democracy.
"Unfortunately, today civic space is under pressure due to politics, repressive laws with increased restrictions on the freedom of civil societies to express themselves, participate, assemble and associate in civic space.
"While new technologies have helped civil society networks grow, they have also given governments excuses to control civil society movements and media freedoms, often under security pretexts.
"The operating environment for civil society is plagued by regulations, civic activists and journalists are repressed and some are forced into exile," the activist said.
Alkali lamented that civil society movements, political activism and political advocacy in Nigeria have been largely held back due to the track record of the country's political history and rivalry between geopolitical regions.
"The negative politics of ethnicity and regionalism have created apathy and lack of trust, which has caused many civil societies to shake hands at times that require collective action. As a result, civil societies have failed to distinguish their affiliation from government in a way that can affirm and promote their autonomous and independent growth.
"Ultimately, such posturing has undermined the cause of civil society and confined it to issues that do not fundamentally challenge or affect the status quo," he observed.
On her part, the Chairperson of the Kano State Chapter of Nigerian Women Journalists (NAWOJ), Bilikisu Ado Zango said media collaboration with CSOs will improve good governance, transparency and respect for the Rule of law in society.
In his article titled "Finding Common Ground to Address Negative Perception Between Media and CSOs," Zango said that civil society organizations and the media can play a key watchdog role across different sectors and build public support for more accountable democratic governance.
"Efforts are needed to promote an enabling environment for civil society and the media. Initiatives should include continuous dialogue to foster cooperation and trust between government, civil society (broadly defined) and the media,' Ms Zango said.
Also speaking, Khadija Abdullahi Yahaya said that the media is an integral part of civil society. Adding that access to the media is essential for actors involved in the pursuit of transparency and equity towards the voiceless.
The one-day round table resolved to ensure more synergy between the media and CSOs to achieve the set objectives and to encourage periodic meetings with the two actors.
The meeting also observed the need to create a common platform for CSO journalists where they will exchange information.
The programme, Agents for Citizens-driven Transformation (ACT) is a four-year program (2019 – 2023) funded by the European Union and implemented by the British Council.